Six of the Best for Planning a Winter Garden
Beat the January blues via Gardening Therapy – whether it's the Brexit or waistline blues, and certainly in my case the Ipswich Town blues! 'January is hanging on me' right now, but is the weather turning blue too?
We've been bathed in the balmy bubble of Auntie Azores (Azores High) who came to stay for Christmas and just does not seem to be taking the hint that it's time to go back home. Whilst the dry, mild weather has been great for getting out in the garden, (the dead heading and herbaceous border husbandry now half done), we do need our winter rains, and some pest killing Arctic blasts before winter is out.
While the sun shines and mild temperatures prevail, my advice to improve fitness and resilience to the winter blues is to get out in the garden and plant something for the coming spring or create a new garden.  It's the very best therapy for my January blues.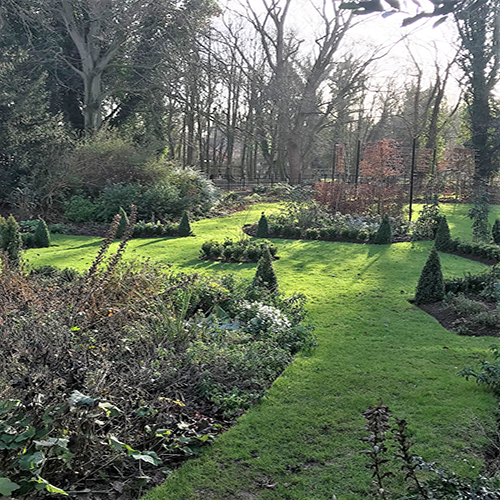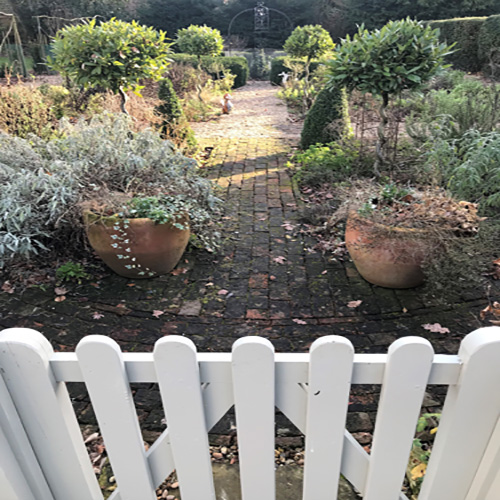 My latest creation, in my mission to re-create a Jane Austin, Regency garden in the grounds of my old wreck and money pit (but also my greatest pleasure) – the Old Rectory, is a new formal garden. I call it the Vicar's Tea Garden. Formally a patch of grass, bordered by nettles and some very old, unkept laurels and a fallen (but still alive) lilac. My wife Louise and I have created a tidy, formal garden, bordered by a Viburnum hedge on one side, box hedges on all other sides, with topiary feature plants, red roses, white standard roses, agapanthus and white tulips all coming through a blue sea of Napeta. Of course, the last three plants (and the roses), will not show us much until the spring, but the structure of the evergreen hedges, topiary and standard bay trees retain the character of the tea garden right throughout the year. So here's my list of 6 winter structure shrubs, and a bonus shrub to boot.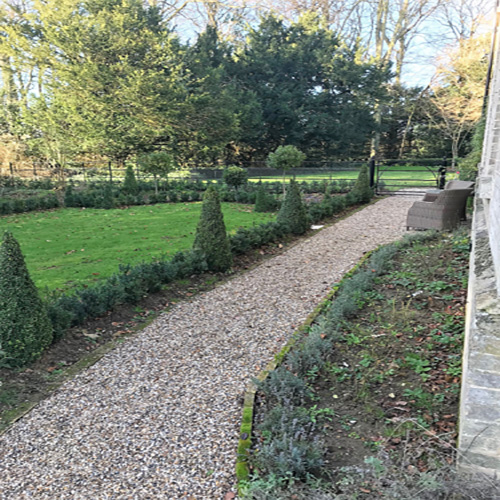 Box hedges: buy individual box plants for best value in 3 to 5 litre pots and plant in a straight line with each touching the next at 4 per metre, so you get an instant hedge effect on planting. You can buy these pre-grown in troughs to form an instant hedge.
Box topiary forms: the cones are best value for size, impact and price. You need ones that are at least 1m high after planting (it seems an obvious point – remember that the pot is 300mm high, but the root will be in the ground).
Viburnum tinus "Eve Price" is a very hardy, reliable shrub, excellent for hedges and as a structural backcloth shrub, and also has plenty of interest in its own white flowers too. For hedges, buy as a 3 litre or 5 litre shrub and plant at 3 plants per metre.
Rosa Munstead Wood is a David Austin shrub rose, ideal for the rose border. It has outstanding ruby red roses and you can plant singularly or in rows, as we have for our formal garden. It is both disease resistant and perpetual flowering. Dead head flowers to keep the shrub blooming.
Rosa "Iceberg" standard rose: this is an ideal standard rose, with a clear stem and ball of growth, producing white flowers in abundance. Check for epicormic growths from the graft and pull these off if they occur. Keep the shape with careful and regular pruning.
Bay Laurel: grown as a topiary. Once again these are best grown as a standard, with a tight ball of growth. They make great century specimens or singular focal points. Grows in sun or shade. Pull off any suckers or epicormic growths.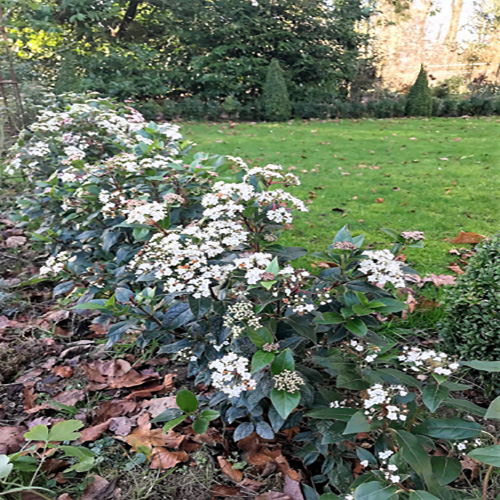 And here's my bonus shrub:
Camelia japonica: a wonderful evergreen shrub for the sheltered corner. Right now the buds are forming to remind us of their glorious flower displays just as the daffodils break.
When the weather is cold, rainy or snowy, why not take a big sheet of paper and plan out your new garden. Firstly, measure your garden and draw out the fixed elements, the boundaries, retained paths and buildings. Then start your plan – if formal, keep the design symmetrical and be prepared to vary it on the ground to ensure it fits the exact site parameters, but without losing the overall symmetry. Then, when the sun shines again, get outside and mark your plan on the ground with a non-permanent site marker paint. Its great fun drawing the plan on the actual ground. Creating a new garden is just the way to keep the January blues at bay.
Happy Gardening!